Project Description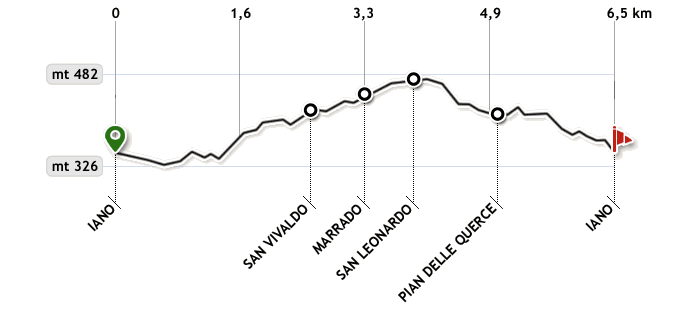 From Via Ecce Homo, turn right onto the gravel road, go past a gate where there is a sign indicating "Pian delle Querce". Here the road begins to go down on a gravelly ground. After 400 meters pass a building of the society of the waters, and continue to go down for another 300 meters, then leaving the main road turn right and then go straight on to the narrow path passing through a field cultivated with fruit trees and the woods. After a slight ascent on the left you can see the swimming pool of a farm holidays until you come to a junction where you turn right.
From here begins a nice single track descent through the forest vegetation, which protects from the heat in Summer, and although occasionally you encounter any roads left and right you should always follow the main path trying to catch a glimpse in the trees of the characteristic white / red signs. This first part of the descent is suitable to go very quickly, however it is advisable to pay attention to some rocks outcropping on the ground of the path, that can be a real danger.
After a few hundred meters the vegetation thins out and you get to a point from which you can see on the right a stone quarry, a little further on your right you will reach a lookout point recognized by a lone pine tree on the right path, from which you can see in the distance the typical hills of the Tuscan countryside (in practice below you lies the village of Iano). Continue to go down on a slight descent with stony ground, being careful not to slip, while the vegetation becomes thicker until you reach the paved road (Via Camporena) that  on the right takes you back to Iano.