Project Description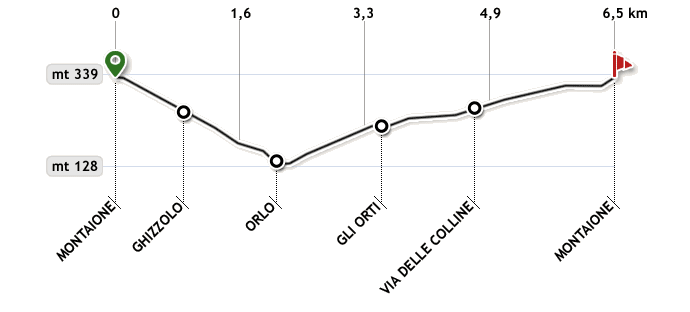 The path 1 Ring "Gli Orti" is a short and very easy track, therefore suitable for those who have little time or are at the beginning of the workout.
The first part of the trail follows the old road that connected Montaione to Castelfiorentino along the stream Orlo.
Start from Piazza Gramsci in Montaione and turn right onto Via Santo Stefano. From here it begins a descent that runs for about 700 meters until you reach the road on the right at the first junction which is recognizable from a cross of iron. (Leave Via Santo Stefano which continues to the left).
Continue to go down for another 200 meters on asphalt until you reach Ghizzolo. From here, take the gravel road on the left and go straight on for another 180 meters until you get at the beginning of a vineyard. Skirt the whole vineyard leaving it on the right. Reached the end of the vineyard keep on the left and go down into the valley. In Spring and Summer the journey could be quite difficult due to the rapid growth of the surrounding vegetation.
From here the road is flat, take the path on the left and cross a bridge over the stream Orlo until the trail opens on a field.
Turn right after about 100 meters on the left you can see some remains of an abandoned house while you begin a gentle ascent on a little stony ground. Continuing to climb slowly to the right you can admire a beautiful view of the panorama of Montaione.
After about a kilometer you will reach the village Borgo degli Orti that you will cross turning on the first street on the left. Then continue to rise for another 500 meters until the gravel road ends and you will get onto Via delle Colline turning right.
After about 800 meters, if you still have breath, you can turn left and continue on the ring of "Gambassi Terme" otherwise continue for 300 meters keeping on the right at the first junction and following the signs to Montaione. After 1.5km Via delle Colline ends, and you will get onto Via Leonardo Da Vinci turning right. Then you will climb another 700 meters until you reach Piazza Gramsci again.