Project Description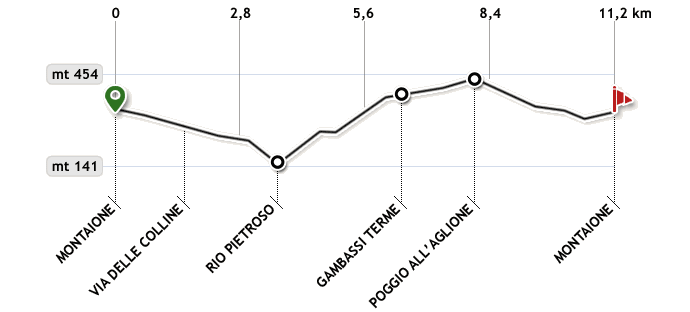 Despite being a short path, it is quite difficult for a long ascent that will test even the fittest riders but it will reward you with a magnificent panoramic view over Valdelsa.
Start from Piazza Gramsci, and turning left, go up towards the town center of Montaione. At the stop sign, turn left onto Viale Filicaja starting a slight descent. After about 700 meters at the end of the descent, go past the junction to San Vivaldo that you see on your right, and after 100 meters, turn left to Via delle Colline. After about 1 km of gentle descent you will reach a junction where you turn left and after 200 meters turn right onto the gravel road that runs along a row of cypress trees.
After an initial flat stretch of about 600 meters a descent begins from where you can admire in the background the village of Gambassi Terme.
Shortly after you reach an old abandoned building. From here continue to descend alongside a vineyard – leaving it on the left – until you get to the bottom of the valley. Here you will encounter a junction and then turn right, then after about 100 meters cross a small bridge over Rio Pietroso.
Shortly after an ascent begins that will last for about 2.7 km. The first section is quite steep on a stony ground. After about 500 meters on the right there is a vineyard. Further along there is a small building used as a farm shed while you can admire a view of the village of Gambassi Terme.
After about 100 meters near the car park of a farm, the road flattens out, allowing you to catch your breath, then you will follow the path to the left and skirt the farm passing among rows of olive trees.
Then, near a junction, the road begins to climb again. Turn right and then left continuing to rise. As you go up near a stretch where on the right there is a fence you can admire the beautiful landscape of the hills of Valdelsa. After a kilometer you will reach Via Volterrana.
Turn right onto Via Volterrana on a paved road, after about 700 meters you will pass in front of the lovely church of Santa Cristina and on the right you can still admire the scenery of the hills of Valdelsa, then after another 500 meters leave Via Volterrana and turn right onto Via Poggio all'Aglione. The road begins a slight ascent for about 250 meters and then begins to go down.
After a few turns the road opens. From here you can enjoy a breathtaking view getting to see the mountains overlooking Florence. Pass in front of the Roman Cistern and then arrive at a junction with Via delle Colline. Turn left onto Via Leonardo da Vinci until you get back to the beginning of the village of Montaione.